Search is located on the teach page
You can search the entire iCivics resource library from the teach page. To get to this page, click the green "teach" button in the navigation bar at the top of the screen and then "SEARCH OUR LIBRARY" in the dropdown.
Search in four ways:
Content Type
Filters
Keyword
Standard
Option 1: Content Type
When the teach page loads, it automatically displays our Curriculum Units. Curriculum Units are how we organize our content at iCivics. They are composed of our 5 content types:
On the teach page, you can use the filter menu at the left of the page to find exactly what you're looking for. You can uncheck curriculum units to see all of our content types display or check the specific type of content you're looking for, such as Lesson Plans.
Option 2: Filter
You can also use the filter menu to narrow down resources in the following ways:
Grade Level
Curriculum Unit
Time Required
Technology Requirements
Tags (such as "Primary Source" or "ELA/literacy") and
Resources included, such as Nearpod templates, Infographics, and Google Slides
Option 3: Keyword
As always, you can use the keyword search at the top of the page to explore all of our resources related to a specific term. For example, try typing in "constitution" and then hitting enter.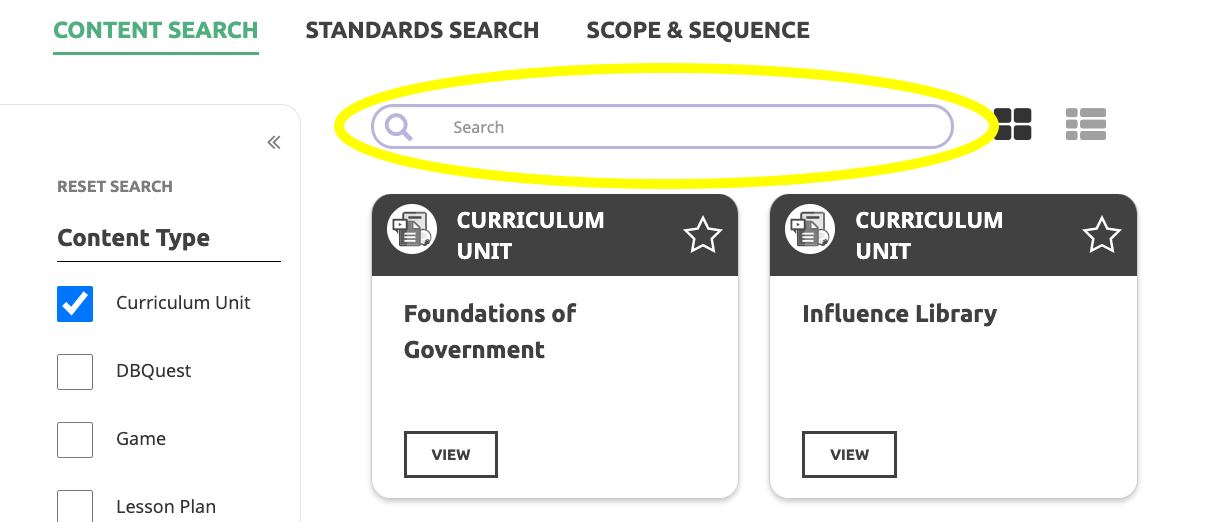 Option 4: Standards
Find resources that have been aligned with your state's standards. View this this tutorial on our Standards Search.
Don't Miss List View!
There's now a toggle next to the search bar that allows you to switch between grid view and list view. List view allows you to see more details about each search result.