If your students signed up using a class code (with no email address) or if you created accounts for your students through our Learning Management System, students will need to use their randomly assigned iCivics usernames in order to access their accounts.
If students are having trouble remembering their usernames, here are a few things you can do:
1. Ask your student to associate their preferred email address with their account:
If your school or district allows students to receive emails, students can associate an email address with their iCivics account. Once the student has regained access to their account, they can edit this information by following the steps (see the screenshots below)
Navigate to "My iCivics"
Select the "Edit Profile" button
Erase the default email listed
Enter the preferred email address
Press save
PLEASE NOTE: An email address can only be associated with one account at a time.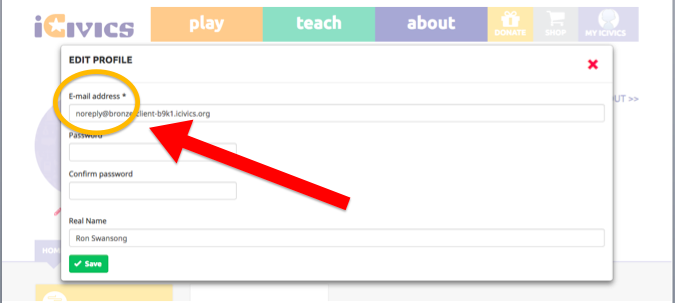 2. Encourage students to use Google's Single Sign-on service
Google Single Sign-on (SSO) allows users to sign in to online accounts using their Google credentials. With this method, sign in requires just one click.
Follow the steps in #1 to have students add their Google email address to their iCivics account
Once saved, instruct students to log out
When students log back in, have them choose "Sign in with Google" and follow the on-screen prompts
3. Look up student usernames via the My iCivics Learning Management System.
As a teacher, you can locate this information through the Learning Management System under the corresponding class page (by clicking on"My iCivics").

The "Students" section of your class page will display the name and username for each student.
4. "Export" your student roster:
You can also use the "Export" button, which will generate a spreadsheet with the name of each student in the class and their corresponding username.
You may want to separate and distribute this information to your students.